Introduction¶
Machine learning (ML) is a rapidly advancing technology, made possible by the Internet, that already has significant impacts on our everyday lives. With the use of Machine learning you can solve challenging problems that impact everyone around the world. Machine Learning (ML) and Artificial Intelligence (AI) are rapidly emerging technologies that have the potential to change our world with speed that humankind has never experienced before.
Machine Learning and Artificial Intelligence are not the same, although the current technologies developed for ML do help research and developments on AI. ML can be characterized with a stricter definition from an engineering perspective. Trying to define AI raises more philosophical discussions on what intelligence is. This publication is focused on Free and Open machine learning. But beware that the terms machine learning and artificial intelligence are intertwined and many so called AI applications are in fact driven by machine learning technology.
You should be aware of the commercial buzz and fads surrounding AI and ML: Machine Learning, deep learning and a lot of tools developed are not 'a universal solvent' for solving all current problems. There is no magic machine learning tool or method yet that can solve all your complex challenges. Machine learning is just a tool to solve a certain type of problems. Maybe in future the use of machine learning can be applied to a broader landscape of problems than currently possible. But do not try to solve all your problems with one (new)technology or toolset.
Artificial Intelligence and Machine Learning are now again in the forefront of global discourse, garnering increased attention from practitioners, industry leaders, policymakers, and the general public.
But despite the hype and money invested in machine learning technology the recent 5 years, one big questions remains: Can machine learning technology help us to solve hard and complex business problems like climate change, health welfare for all humans and other urgent problems?
This publication gives you a reality check. You learn what is easily possible using new machine learning technologies and tools, what the current potential is and what still remains wishful thinking for the future. We like transparency, so we focus solely on free and open machine learning technologies.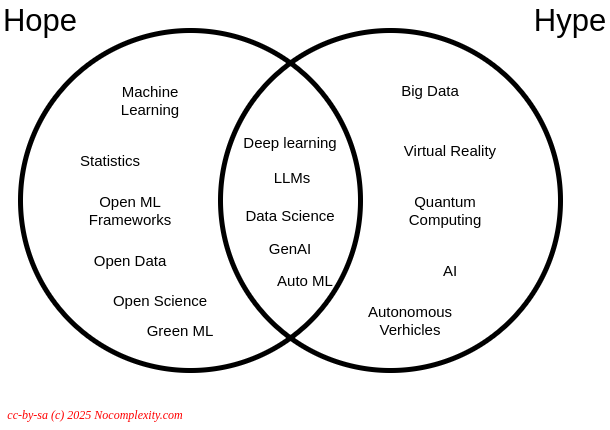 Innovation needs openness. This is also valid for machine learning technologies. Without real openness new developments and innovations in machine learning are impossible. As a practitioners in your business domain and with your unique expertise you can start making a difference. This publication gives you a starting point for trying to apply free and open machine learning technology on your unique use cases.